PROFESSIONAL INSTALLATION
MAKE YOUR NEIGHBOURS GREEN WITH ENVY
Keeping your garden looking great can be time-consuming, and isn't everybody's idea of fun. What's more, come the wet winter month, lawns can start to look untidy, and can very quickly become mud pits.
Artificial grass is a high-quality, low-maintenance alternative to natural grass, and has very quickly become a firm favorite. At G & D Landscapes and Fencing we take great pride in being able to supply and install artificial grass for customers in Sunderland, South Shields, Seaham, Washington, Durham, and the surrounding areas.
Want something a little more natural? Our team can also lay quality freshly cut turf, perfect for those who want their lawn transformed quickly and at a cost-effective price.
ARTIFICIAL GRASS INSTALLATION
Our efficient artificial grass installation process also consists of 5 stages:
We will begin by clearing the area of any existing grass, weeds, debris, or hardcore.

The area is then levelled to suit the surrounding landscape.

Next, we will lay an anti-weed membrane across the newly-levelled surface. This will ensure that no weeds can grow through your new artificial grass

We then add some stability to the area by installing a timber frame, and then hardcore and sharp sand

We then lay your artificial grass - the actual installation process behind this will vary depending on the product you choose.
Turf Installation
Our 5-step process will have your new lawn looking lush in next to no time.
We will conduct an initial site clearance, making sure than any existing grass, plants, weeds, and hardcore is removed from the area.

Next we will level the area, adding or removing soil as required.

High quality topsoil is then added to give the turf a nutrient-filled sub-layer.

We then lay your new, freshly cut turf ensuring a smooth and uniformed look.

Finally, we will neatly edge your newly turfed space to ensure a high quality finish.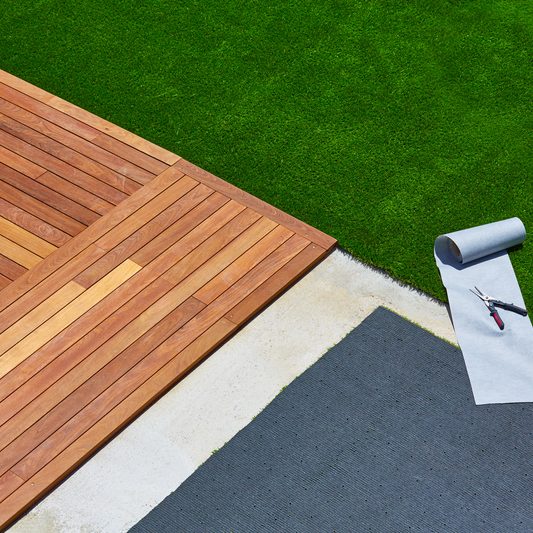 Simple Process, Great Result!
As you can see, the installation process behind your new freshly-cut turf or artificial grass is simple, but we are absolutely certain that you'll love the result.
Our turfing and artificial grass laying service can form part of a larger garden transformation project, alongside our fencing, decking, or paving services, or can be a stand-alone service.
Not sure which option is the most suitable for your outdoor space? Our team have over 20 years' experience and are always happy to offer advice on getting the most from your garden.
Speak to us if you have any questions, or if you'd like a free quote.